PopCap Games, creator of some of the world's most beloved video game franchises and a division of Electronic Arts, launched Peggle 2, the anticipated sequel to the number 1 puzzle game of 2007.  It is only available exclusively as a digital-only title for the Xbox One.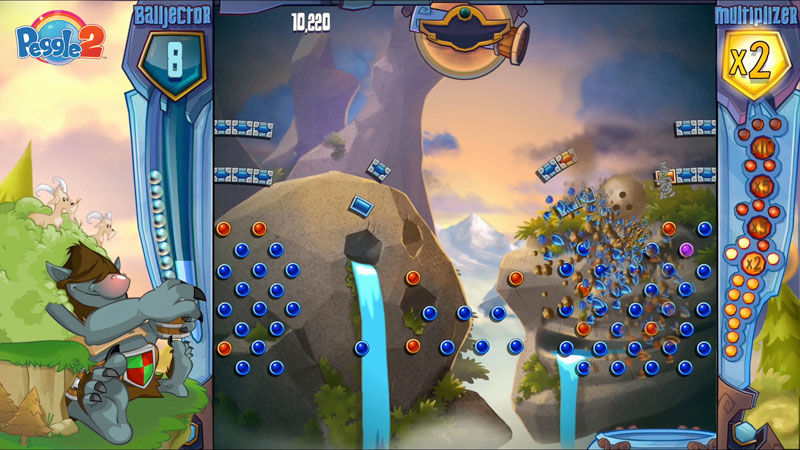 "With Peggle 2 we're taking everything that our fans love about Peggle and bringing it to another level," said Jared Neuss, Lead Producer on Peggle 2. "The new Peggle Masters have tons of personality, their powers are all completely over the top and there is a massive amount of content for players to explore."
The original Peggle was released on all major video gaming and mobile platforms.  Peggle generally received favorable reviews with an 89 on the Xbox 360 and released a sequel and few downloadable content for players to download when they exhausted the original games content.
Peggle 2 is currently receiving rave reviews and boasts a 79 metacritic score.  Some critics are saying, "It's a ridiculous, excessive, joyful game that will devour all of the time you're willing to give it."
Peggle 2 comes initially with five Peggle masters / power-ups, with more coming in future content updates. Returning from the original Peggle is Bjorn the unicorn, whose Super Guide power-up displays the path of the ball's first bounce (enhanced and improved compared to the original Peggle). The four new Peggle 2 masters are as follows: Berg, a lovable yeti whose Deep Freeze power causes pegs to slip and slide into each other, often with devastating chain reactions; Gnorman, a small gnome with big dreams and a power (Uber Volt) which supercharges the ball with electricity that lances out to strike two additional pegs for each hit peg; Jeffrey, a laid-back troll with a Bowlder power-up that smashes through pegs and bricks with crushing finality; and Luna, a mysterious, but loveable ghost girl whose Nightshade power turns blue pegs into spectral shadows through which the ball can pass to reach difficult orange pegs.
Peggle 2 is available for download on the Xbox Live Marketplace for $11.99.